SNAP! (2016) for trb, gt, piano and percussion
Duration: 9 min
The piece is inspired by and built around the sound and function(s) of the finger snap. Snapping one's fingers can both be a rhythmic impulse, an indication of a swinging rhythm or a magical gesture that can mark the disappearance and return of an object – or let something change direction. The music plays with the sound elements of the snap: a thumping sound, noise of the friction between fingers and the reverberation.
Commissioned by Århus Sinfonietta and premiered at the Aarhus Jazz Festival 2016.
THROUGH THE LOOKING-GLASS (2014) for 2 t-sax, 2 trb, 2 cello
Duration: 20 min
Chamber music in 2 parts. The work uses visual elements of e.g. mirroring gestures and sounds, performers moving around the stage, light in different colors. There is also use of prepared instruments. The first part is played using a click-track. Composed as a part of the large-scale concert/performance Through The Looking-Glass, premiered on Nov 2, 2014.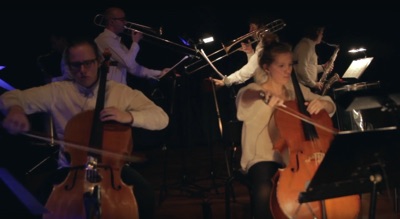 MUSIC SURROUNDING EMPTY CHAIRS (2014) for 6 performers
Duration: 5 min
The work consists of a system of lights on stage turning on and of - and at the same time triggering different performers placed around or within the audience. Performers are playing on a succession of small instruments from melodic to percussive sounds.
DEAD MAN VARIATIONS (2013) for a-fl, b-cl, trb, vla, cello, b
Duration: 6 min
Variations over a theme inspired by the film Dead Man by Jim Jarmusch.
Composed for a workshop session with musicians from Aarhus Sinfonietta.
Re-arranged for a band of a-sax, acc, trb, 2 el-gt, b, dr
DRØMMEMASKINEN (2011) for fl, trp, cello, gt, piano, perc and sensor installation
Duration: 20 min
Work in 3 parts inspired by descriptions of dreams - among others by Franz Kafka. The audience was able to participate via motion sensors linked to electronic sounds.
Commissioned by the ensemble Lydenskab. Premiered by Lydenskab in the summer of 2011.
VIDEO excerpt "Franz Oktober 1921"
EN GAMELAN ABSTRAKTION (2009) for 2 fl, vl, cello, el-gt, dr
Duration: 9 min
Work loosely inspired by the gamelan music of Indonesia. Composed for a mixed ensemble of classical and improvising musicians.
SWINGING (2017) for trb, gt, piano and percussion
Duration: 11 min
The piece is a kaleidoscopic investigation of the term 'swinging' and its many meanings and possibilities in connection to music and sound. The concept will be experienced as: Rhythm or pulse – a swing-rhythm, a swinging rhythm or underlying pulse. Vibration – swinging waves of sound, fluctuations. Movement – to swing from side to side, a swinging pendulum, changing direction. A feeling – everything is good, it swings… fantastic! The same musical progression or process is played three times while the tempo is gradually getting slower. This reveals more and more the individual parts and inner workings of the 'swinging' musical material.
Commissioned by Århus Sinfonietta and premiered at the Aarhus Jazz Festival 2017.